About Health Care Training Services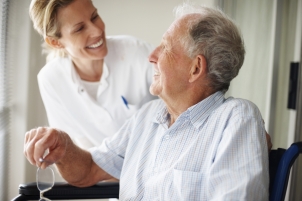 Since 1996 Health Care Training Services has provided hands on training in healthcare related fields. As the health care industry evolves, demand for health care workers in hospitals, physician offices, nursing homes and a variety of other health care settings is increasing faster than supply. Health Care Training Services is meeting the challenge head-on, providing the classes and topics that are needed in training the next health care and related work force for these rewarding careers.
Why Attend Classes at Health Care Training Services, Inc.?
Our Instructors
They know their material and they're friendly and caring too!
Our Facilities
They are comfortable, convenient, air conditioned and handicapped accessible. All of our courses are offered here - so no travel to another location except for your internship/clinical experiences.
Our Courses
This school is licensed by the Massachusetts Office of Private Occupational School Education, Division of Professional Licensure.
Our Financing
The school offers payment plans and other financing alternatives to qualified individuals.
Our Approach
Encourage student questions and participation, help with private tutoring if necessary. Every student is different and it's our job to help each succeed! Celebrate success! We provide transcripts.
Our Job Placement Effort
We are in touch with the major health care organizations promoting our graduating students to them! We also post job openings listed from online and print sources, posting them on our jobs board, Face book page and links on our website.
Our History
Founded in 1996 . . . so we've been doing this for a long time and we've served thousands of students!
Our Reputation
Talk to our former students or ask to see the evaluations our students have made of our instructors!
Experienced and caring instructors
Clinical rotations and internships provided by the school
Job placement assistance
Flexible payment options including payment plans, grants, and student loans; for those who qualify.
We offer the classes you need to keep on top of the industry.
Whether you are brand-new to the health care field, or want to upgrade skills you already have, we have classes to fit your needs. Classes are scheduled days and evenings for your convenience.
Use us as your first step into a new world.
Many students use our beginning classes as stepping stones to transition into other health care careers. Once they have the "basic training" and know that health care is the field for them, our graduates have gone on to study for careers in nursing, physical therapy, etc.
With a head start into the medical profession already, you can continue to study for these advanced careers while working in the industry and earning a good living. At times, our graduates also serve as mentors to our current students and as teacher's aides or guest lecturers.
More than facts and skills, we teach an approach to caring for others.
Health care education needs to be more than classes and exams. It's about caring. It takes a special disposition to work in the health care field, and our teachers will help you learn how to care for others while learning the course material. Working in a nurturing, relaxed atmosphere, our teachers take the time to work with you to ensure you understand the material. By encouraging class discussion, stimulating independent thinking, and communicating effectively, they provide help and advice to prepare you for all aspects of working in the health care profession.
Everyone comes out on top at Health Care Training Services.
Once an investment in classes is made, the question in the back of every student's mind is: what's next? Our students can rest assured there is always a demand for their services once certification is completed. Our one-on-one attention, cutting-edge classes, and solid education all add up to give the student training experience with added value, and give the employer a trained, compassionate professional.
We take pride in helping our students find jobs! Our graduates are known by area health care organizations to be well trained - enhancing the likelihood of being hired!
Message From Our President
A key ingredient in the way a school works is the leadership of the school, and because of that I thought it important to tell you a little about my background. I have a Master in Health Care Administration degree and have worked as the President and CEO of a major health care system which included a 350 bed acute care teaching hospital, three (3) nursing homes, a physician group practice, a home care agency, and a free standing laboratory.
I also served for many years as the Administrator of a very large physician group practice with 300 physicians and over 30 office locations. I am a Fellow in the American College of Healthcare Executives and a Certified Medical Practice Executive in the American College of Medical Practice Executives. Why is this important? Because, my 25+ year career as a health care executive drives how we operate. We stay in close contact with professionals in the field to make sure we are keeping up with their needs-training students based on what the employers tell us students need to know. We create our curriculums based on what students will really be doing in their future jobs. We can answer student's questions about the differences of working in a hospital versus a nursing home versus a physician office, or working as a medical biller versus a medical coder versus a medical office specialist. Finally, as our motto next to our logo states "Learning starts with caring"; we care about our students. I invite you to see it in person. Come for a visit to our school and you will see caring everywhere! Best wishes for a wonderful career helping people!
Sincerely,
Robert E. Maher, Jr.,MHA
FACHE,CMPE